2 February 2023
Reading time 3 minutes
Kalmar and Kenya Ports Authority collaborate on cargo handling in East Africa
Kalmar and its key partner Kenya Ports Authority (KPA) have a long history in cargo handling in Kenya. Together with PowerParts, located in Mombasa, they oversee import and export to several countries in East and Central Africa.
At one of the busiest ports in Africa, Kalmar and KPA work together to facilitate trade from and to a large part of the continent. The collaboration started years ago and is considered one of Kalmar's key partnerships.
Anderson M. Mtalaki, General Manager, Engineering Services at KPA says, "We took delivery of our first reachstacker more than 15 years ago, and it is still running flawlessly. Since then, Kalmar quickly became one of the main associates in our cargo handling operations."
A gateway to East and Central Africa
KPA manages the Port of Mombasa and other seaports along Kenya's coast. The company oversees extensive import and export activities in the areas, providing connectivity to over 80 ports globally.
"KPA functions as a trade facilitator for several East and Central African countries. We are responsible for handling incoming cargo, as well as exporting goods and commodities and improving life quality and the development in these areas," says Mtalaki.
With the high volume of cargo flowing through the Port of Mombasa, KPA constantly has an eye out for new ways to improve efficiency and the quality of its services.
"We are ambitious to create the best possible experience for our customers. This requires durable equipment and flexibility in cargo handling to suit the needs of our various global partners. We see that with Kalmar we can reach these goals," says Mtalaki."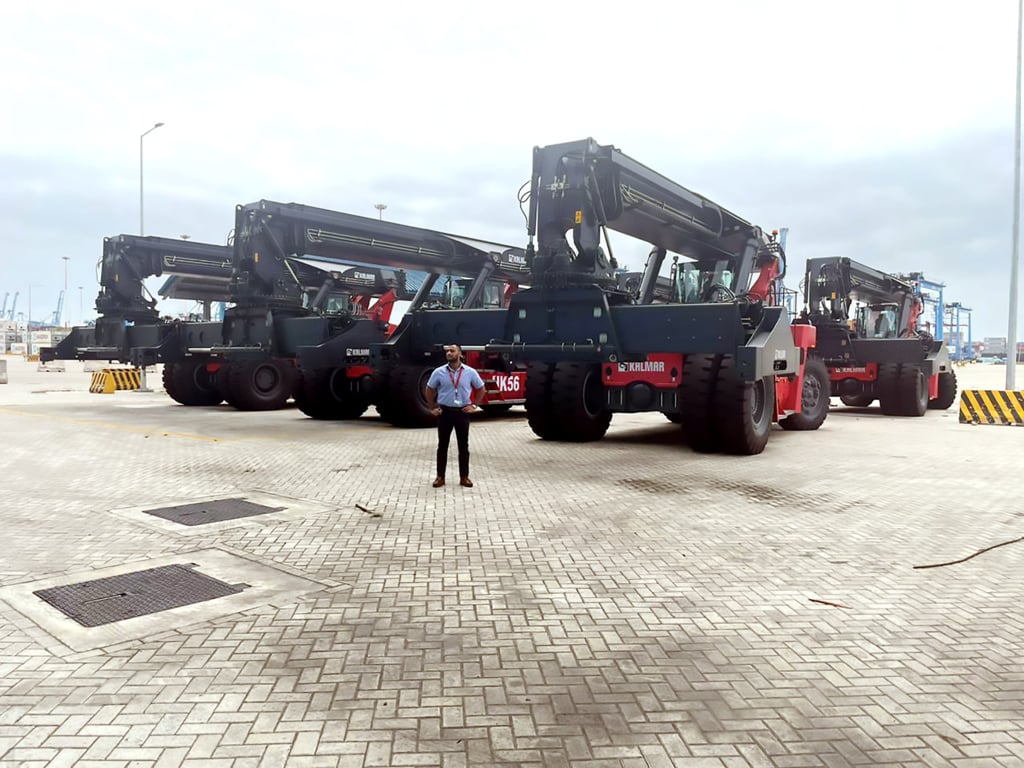 Kalmar embodies reliability and accessibility
KPA has used Kalmar equipment across a range of business activities since 2005. Their fleet includes Kalmar reachstackers, empty container handlers, and terminal tractors.
"Kalmar is a business partner with deep knowledge of its customers. The equipment is easy to use and fits our operations perfectly. We can always expect strong expertise and availability from sales representatives and other contact persons from Kalmar," says Mtalaki.
Kalmar meets customer requirements with continuous innovation and product development. A versatile product portfolio ensures compatibility with the various variables of use cases in Kenya as well.
KPA is happy with the ongoing development of both Kalmar equipment and their services. For example, the terminal tractor has had a clearly positive impact on our total holding capacity. The ease of maintenance and reliability of the equipment allows us to reach our desired levels of efficiency across operations," explains Mtalaki.
A collaboration of three
An important third party in the collaboration between KPA and Kalmar is PowerParts. They provide expertise to KPA and facilitate operations in Kenya on many fronts. Jinesh Manian, Sales Director at Kalmar, says, "Our collaboration would not be the same without our dealer in Kenya, PowerParts. They have supported KPA in every way from providing information to helping with equipment maintenance."
"Kalmar is a business partner with deep knowledge of its customers."
The collaboration between KPA, Kalmar, and PowerParts increases efficiency at the busy Port of Mombasa. KPA can rely on getting quick solutions to challenges that arise in daily operations.
"Initially, PowerParts acted as an agent, but the collaboration quickly bloomed into a full partnership. Now, they provide valuable services to KPA and run the necessary training as well," continues Manian.
Kalmar and KPA will continue working together to ensure the import and export of goods and commodities in West Africa.
"In addition to the efficiency and availability of Kalmar's equipment, we also see them as a valuable partner for ensuring eco-efficiency. Together we can support Kenya's national goals for sustainability. KPA is looking forward to going green while creating the best possible cargo handling service for our customers," concludes Mtalaki.